2016 Championship Trophies and Mementos
Cold Spell's 4th title and our first time with two finalists. Click to see detail.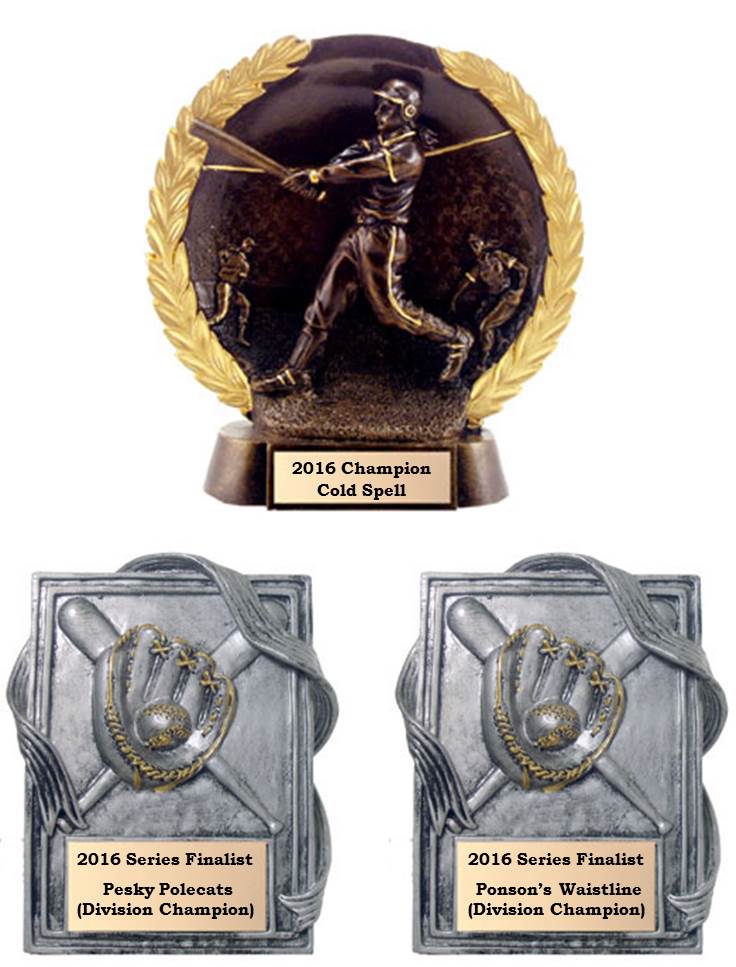 Listen to "We are the Champions" with these hip championship headphones. Click to see detail.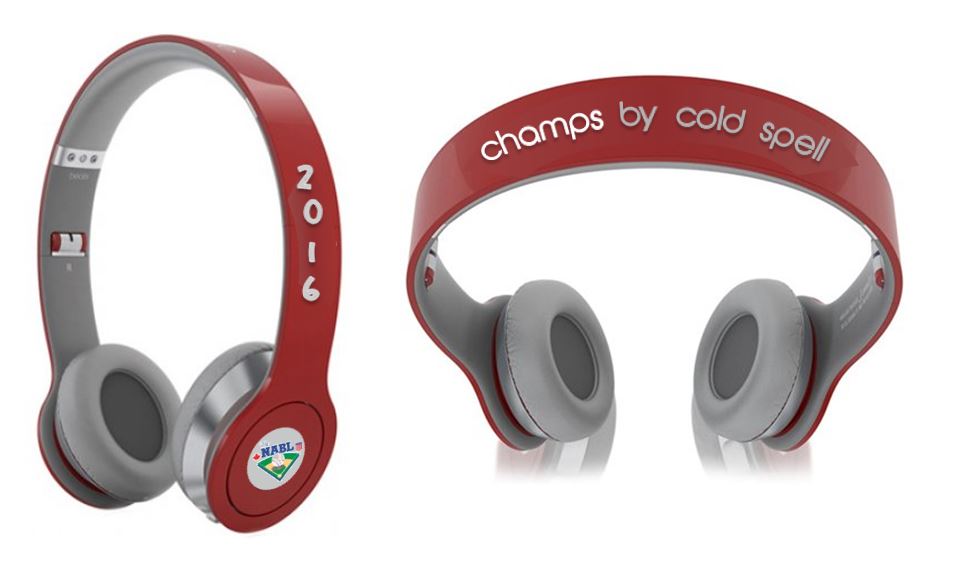 Roto Points
Cold Spell is official champ, followed by Polecats then Ponson.
4th is Spiders, 5th is Groove due to Wild Card Scramble result.
No sorting functionality.
| Rank | Team | Hitting | Pitching | TOTAL |
| --- | --- | --- | --- | --- |
| 1 | Ponson | 60 | 39.5 | 99.5 |
| 2 | Cold Spell | 47.5 | 46 | 93.5 |
| 3 | Polecats | 39 | 50 | 89 |
| 4 | Spiders | 36 | 43.5 | 79.5 |
| 5 | RLJ | 28 | 45 | 73 |
| 6 | Isotopes | 40.5 | 29 | 69.5 |
| 6 | Groove | 40.5 | 29 | 69.5 |
| 8 | Batemans | 29 | 29 | 58 |
| 9 | Fenway | 10 | 36 | 46 |
| 10 | Sharks | 27.5 | 11 | 38.5 |
| 11 | Cards | 14.5 | 18 | 32.5 |
| 12 | Heat | 17.5 | 14 | 31.5 |
Hitting
| Rank | Team | BA | R | HR | RBI | SB |
| --- | --- | --- | --- | --- | --- | --- |
| 1 | Ponson | 0.2842 | 946 | 295 | 988 | 129 |
| 2 | Cold Spell | 0.2822 | 908 | 270 | 914 | 105 |
| 3 | Polecats | 0.2707 | 909 | 265 | 875 | 108 |
| 4 | Spiders | 0.2707 | 888 | 267 | 899 | 86 |
| 5 | RLJ | 0.2729 | 832 | 195 | 748 | 122 |
| 6 | Isotopes | 0.2732 | 867 | 239 | 811 | 128 |
| 6 | Groove | 0.2728 | 868 | 279 | 886 | 105 |
| 8 | Batemans | 0.2721 | 869 | 216 | 737 | 112 |
| 9 | Fenway | 0.2579 | 773 | 214 | 732 | 88 |
| 10 | Sharks | 0.26 | 787 | 233 | 811 | 121 |
| 11 | Cards | 0.2643 | 756 | 215 | 765 | 94 |
| 12 | Heat | 0.2641 | 756 | 231 | 749 | 75 |
Pitching
| Rank | Team | W | ERA | WHIP | K | SVHO2 |
| --- | --- | --- | --- | --- | --- | --- |
| 1 | Ponson | 131 | 4.341 | 1.3095 | 2055 | 177.5 |
| 2 | Cold Spell | 127 | 3.42 | 1.1614 | 1867 | 114.5 |
| 3 | Polecats | 119 | 3.411 | 1.1818 | 1882 | 180 |
| 4 | Spiders | 131 | 3.828 | 1.2394 | 1928 | 105 |
| 5 | RLJ | 124 | 3.86 | 1.2397 | 1968 | 132 |
| 6 | Isotopes | 117 | 4.168 | 1.293 | 2106 | 67 |
| 6 | Groove | 118 | 4.098 | 1.3143 | 1794 | 121.5 |
| 8 | Batemans | 110 | 4.022 | 1.2908 | 1693 | 116.5 |
| 9 | Fenway | 102 | 3.826 | 1.1765 | 1430 | 124.5 |
| 10 | Sharks | 91 | 4.058 | 1.36 | 1283 | 58 |
| 11 | Cards | 78 | 3.895 | 1.3205 | 1112 | 74 |
| 12 | Heat | 115 | 4.181 | 1.3147 | 1584 | 98.5 |