2017 Championship Trophies and Mementos
Cold Spell's unprecedented 5th title and first repeat champion in NABL history.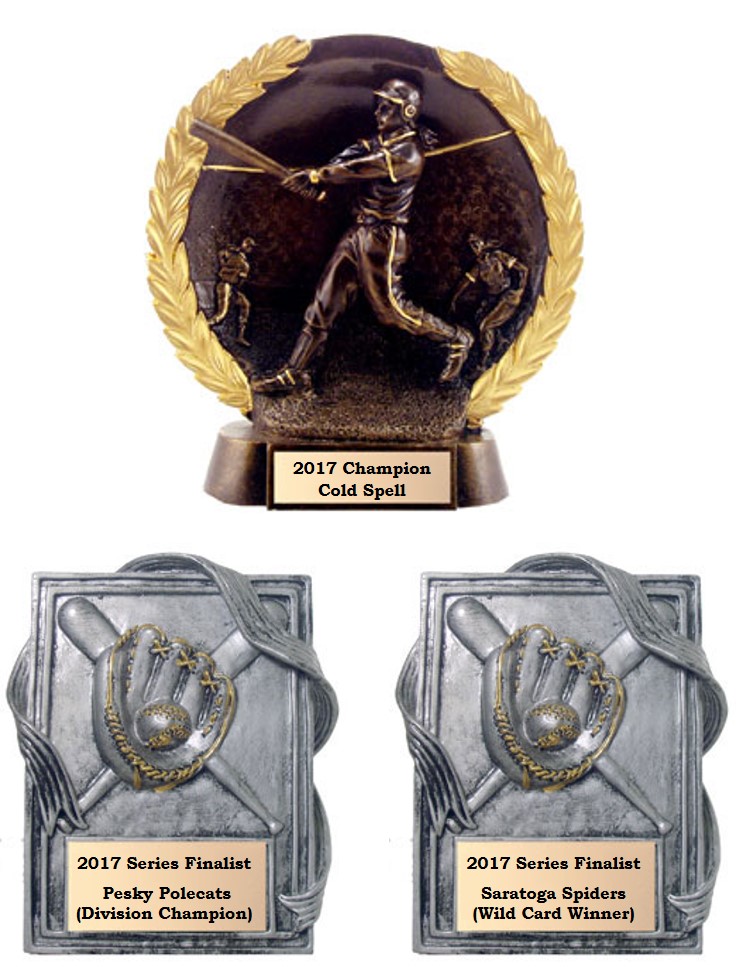 Humble brag with this stylish championship T-shirt. Click to see detail.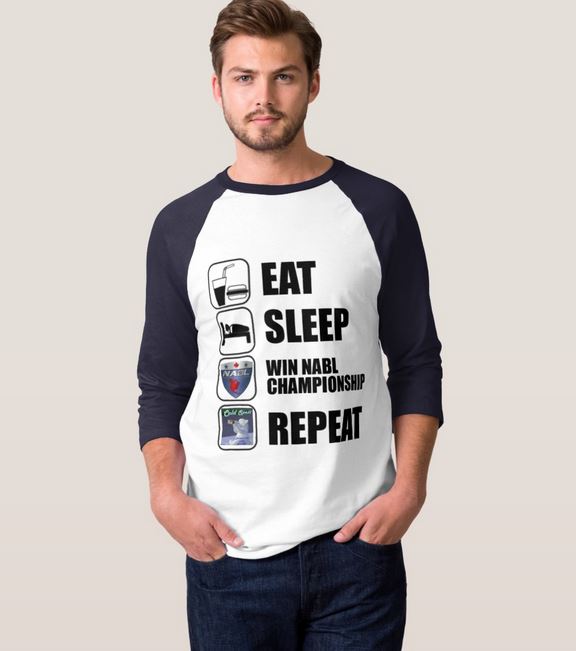 Roto Points
Cold Spell is official champ, followed by Polecats then Spiders.
4th is High Heat, 5th is The Batemans due to Wild Card Scramble result.
No sorting functionality.
| Rank | Team | Hitting | Pitching | TOTAL |
| --- | --- | --- | --- | --- |
| 1 | Polecats | 55 | 46.5 | 101.5 |
| 2 | Cold Spell | 29.5 | 55 | 84.5 |
| 3 | High Heat | 43 | 39 | 82 |
| 4 | Batemans | 51 | 28 | 79 |
| 5 | Isotopes | 44 | 32 | 76 |
| 6 | Spiders | 33.5 | 38 | 71.5 |
| 7 | Bulldogs | 40.5 | 26 | 66.5 |
| 8 | Groove | 27 | 38 | 65 |
| 9 | Ponson | 27.5 | 34 | 61.5 |
| 10 | Touch'Em All | 16 | 32.5 | 48.5 |
| 11 | Cards | 11 | 13 | 24 |
| 12 | Sharks | 12 | 8 | 20 |
Hitting
| Rank | Team | BA | R | HR | RBI | SB |
| --- | --- | --- | --- | --- | --- | --- |
| 1 | Polecats | 0.2778 | 1005 | 312 | 917 | 105 |
| 2 | Cold Spell | 0.2590 | 878 | 237 | 775 | 142 |
| 3 | High Heat | 0.2714 | 900 | 268 | 846 | 136 |
| 4 | Batemans | 0.2894 | 956 | 270 | 899 | 121 |
| 5 | Isotopes | 0.2657 | 943 | 274 | 896 | 118 |
| 6 | Spiders | 0.2653 | 885 | 261 | 913 | 93 |
| 7 | Bulldogs | 0.276 | 874 | 266 | 913 | 102 |
| 8 | Groove | 0.2579 | 869 | 297 | 867 | 78 |
| 9 | Ponson | 0.2692 | 820 | 237 | 807 | 99 |
| 10 | Touch 'Em All | 0.2627 | 752 | 235 | 780 | 71 |
| 11 | Cards | 0.2516 | 749 | 224 | 697 | 98 |
| 12 | Sharks | 0.2614 | 732 | 214 | 709 | 95 |
Pitching
| Rank | Team | W | ERA | WHIP | K | SVHO2 |
| --- | --- | --- | --- | --- | --- | --- |
| 1 | Polecats | 115 | 3.81 | 1.2127 | 1973 | 130 |
| 2 | Cold Spell | 129 | 3.581 | 1.1868 | 1950 | 139 |
| 3 | High Heat | 139 | 4.462 | 1.3708 | 2230 | 108 |
| 4 | Batemans | 130 | 4.507 | 1.3931 | 1817 | 106.5 |
| 5 | Isotopes | 125 | 4.417 | 1.3249 | 1941 | 105.5 |
| 6 | Spiders | 136 | 4.069 | 1.26 | 1869 | 94 |
| 7 | Bulldogs | 117 | 4.326 | 1.3261 | 1731 | 93.5 |
| 8 | Groove | 111 | 3.624 | 1.2489 | 1717 | 136 |
| 9 | Ponson | 127 | 3.93 | 1.2549 | 1710 | 106 |
| 10 | Touch 'Em All | 115 | 3.817 | 1.2315 | 1747 | 91.5 |
| 11 | Cards | 79 | 4.343 | 1.3788 | 1241 | 77 |
| 12 | Sharks | 66 | 4.541 | 1.3585 | 990 | 34 |