2018 Championship Trophies and Mementos
Pesky Polecats make the playoffs for the 5th straight year, resulting in their second NABL championship.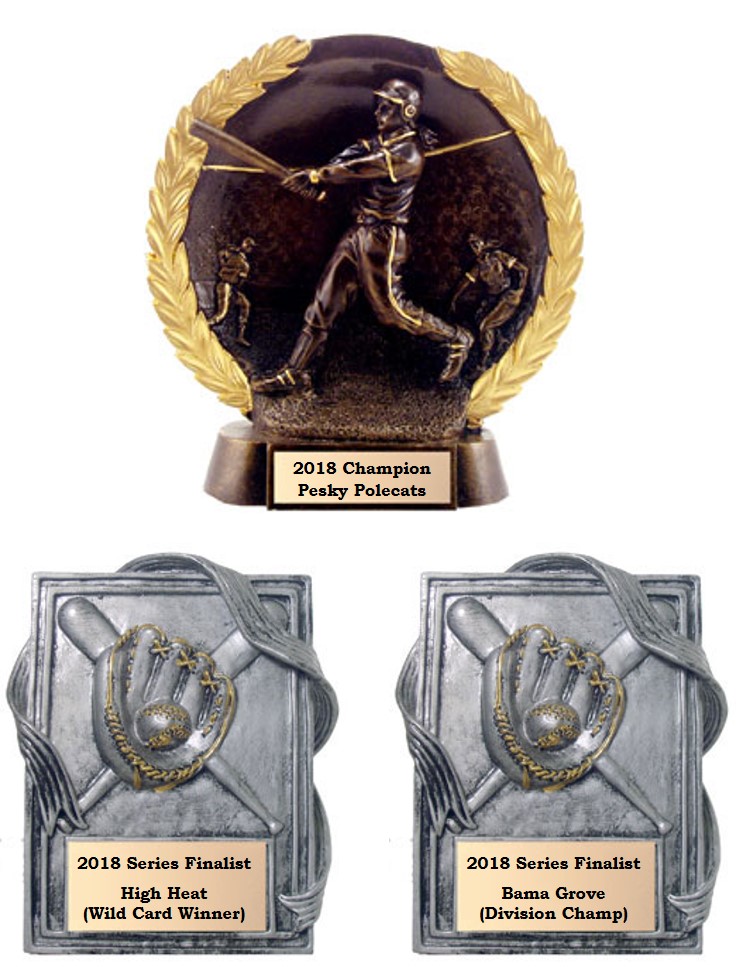 Relive all of the great moments with your own 2018 Champions Etch-a-Sketch!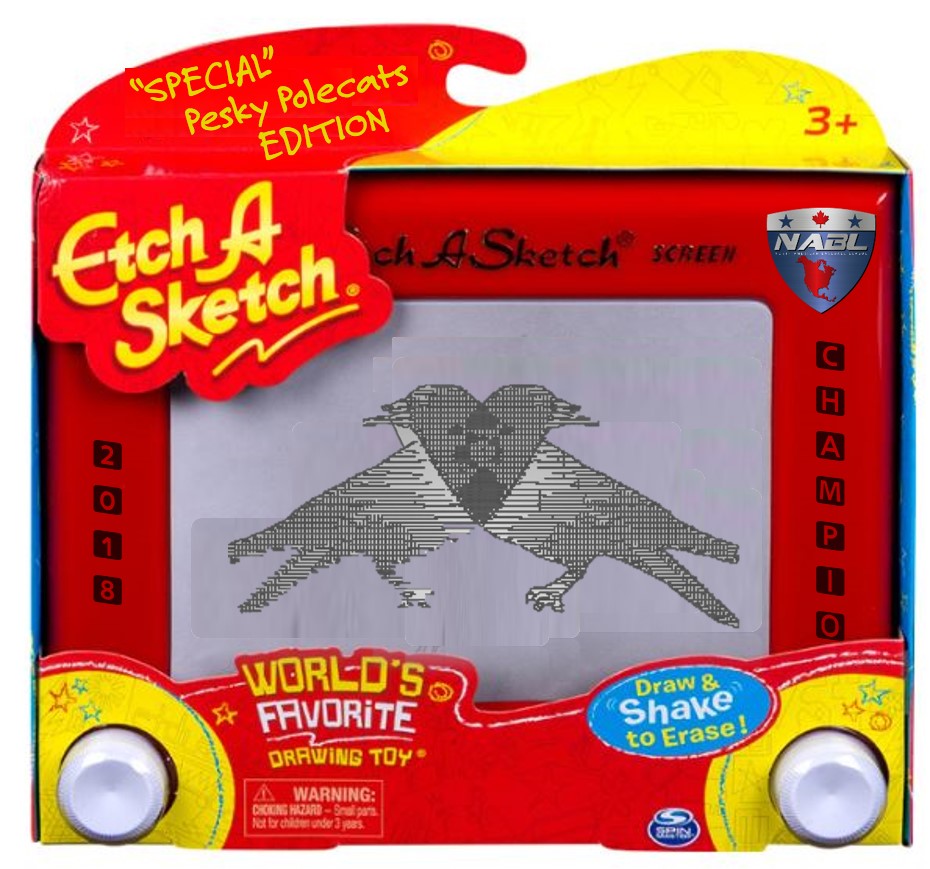 Roto Points
Polecats is official 2018 champ, followed by Heat then Groove.
4th is isotopes, 5th is Bulldogs due to Wild Card Scramble result.
No sorting functionality.
| Rank | Team | Hitting | Pitching | TOTAL |
| --- | --- | --- | --- | --- |
| 1 | Pesky Polecats | 56 | 53 | 109 |
| 2 | Bama Groove | 54 | 42 | 96 |
| 3 | Springfield Isotopes | 49 | 43 | 92 |
| 4 | High Heat | 31 | 45 | 76 |
| 4 | Ponson's Waistline | 40 | 36 | 76 |
| 6 | Saratoga Spiders | 39 | 36 | 75 |
| 7 | Bulldogs | 36 | 38 | 74 |
| 8 | Cold Spell | 33 | 29 | 62 |
| 9 | The Batemans | 20 | 19 | 39 |
| 10 | StL Cardinals | 13 | 21 | 34 |
| 11 | Touch'em All | 10 | 15 | 25 |
| 12 | Landlocked Sharks | 9 | 13 | 22 |
Hitting
| Rank | Team | BA | R | HR | RBI | SB |
| --- | --- | --- | --- | --- | --- | --- |
| 1 | Pesky Polecats | 0.2669 | 1003 | 289 | 934 | 143 |
| 2 | Bama Groove | 0.2714 | 919 | 287 | 864 | 154 |
| 3 | Springfield Isotopes | 0.2665 | 940 | 270 | 909 | 115 |
| 4 | High Heat | 0.2637 | 834 | 261 | 862 | 96 |
| 4 | Ponson's Waistline | 0.2690 | 869 | 230 | 796 | 119 |
| 6 | Saratoga Spiders | 0.2652 | 866 | 243 | 871 | 111 |
| 7 | Bulldogs | 0.2643 | 883 | 234 | 836 | 101 |
| 8 | Cold Spell | 0.2669 | 868 | 223 | 810 | 100 |
| 9 | The Batemans | 0.2583 | 765 | 224 | 782 | 75 |
| 10 | StL Cardinals | 0.2484 | 700 | 176 | 642 | 97 |
| 11 | Touch'em All | 0.2484 | 636 | 207 | 686 | 53 |
| 12 | Landlocked Sharks | 0.2479 | 646 | 195 | 676 | 72 |
Pitching
| Rank | Team | W | ERA | WHIP | K | SVHO2 |
| --- | --- | --- | --- | --- | --- | --- |
| 1 | Pesky Polecats | 137 | 3.351 | 1.1568 | 1973 | 144.5 |
| 2 | Bama Groove | 117 | 3.954 | 1.233 | 2190 | 124.5 |
| 3 | Springfield Isotopes | 149 | 3.783 | 1.2413 | 2068 | 117.5 |
| 4 | High Heat | 134 | 3.734 | 1.1946 | 2247 | 75 |
| 4 | Ponson's Waistline | 51 | 3.045 | 1.1106 | 718 | 130 |
| 6 | Spiders | 115 | 3.758 | 1.2356 | 1923 | 106 |
| 7 | Bulldogs | 116 | 3.840 | 1.2423 | 1788 | 162 |
| 8 | Cold Spell | 100 | 3.748 | 1.1996 | 1595 | 66 |
| 9 | The Batemans | 91 | 4.199 | 1.3018 | 1700 | 96.5 |
| 10 | StL Cardinals | 106 | 4.333 | 1.3194 | 1730 | 115.5 |
| 11 | Touch'em All | 63 | 4.071 | 1.2804 | 1253 | 92 |
| 12 | Landlocked Sharks | 85 | 4.291 | 1.2578 | 1431 | 62 |